Hate shopping? These are our tricks for easily finding killer deals on higher end clothing.
Special thanks to Nordstrom Rack for working with us to make this post possible!
Between 2 pairs of jeans that are the same style and fit the same, both that cost $30, but one is from Target and one is a designer brand on sale – which would you pick? 
The answer is so obvious it answers itself. The trouble is, of course, finding those needle-in-a-haystack designer sales that are A) actually good deals and not just reduced but still crazy expensive (50% off $400 jeans is still $200 jeans); and B) that have anything in your size at all. 
Guys stereotypically HATE shopping, even guys who love dressing well, which is one of the reasons our Getups and deal round ups are so popular. So, what percentage of guys do you think are into shopping that only results in a lot of dead ends and frustration? Again, the answer is so obvious it answers itself. 
So what if I told you I've got a few tricks I've picked up from running Primer for 12 years that will not only make shopping painless, but also result in buying higher end items while saving money?
I tend to not peruse stores like Ross and TJMaxx all that often. It just seems like a ton of stuff that didn't sell somewhere else with brands I…may have heard of before(?). Beyond that, it requires a lot of killed time: Ross doesn't even sell online!
But Nordstrom Rack isn't the same as Ross and TJMaxx for one very important reason. Most of the stuff in Nordstrom Rack is stuff that was originally sold in Nordstrom. Nordstrom is considered a luxury department store, so brands you're getting at Nordstrom Rack are, quite literally, luxury on a budget. 
So, unlike other off-price stores, Nordstrom Rack is full of respected brands
you've heard of, meaning if you find something you like, and it fits, it's an obvious buy.
Here are some of the brands they carry that I like:
Allen EdmondsBonobosAlex MillBilly ReidClub MonacoGreatsJohn VarvatosSaturdays NYCBrooks BrothersFahertyHickey FreemanHamilton
Ted BakerRod & GunVince CamutoGrayersFryeShinolaFlorsheimCole HaanChampionTopmanAllSaints
Style meets savings. Literally.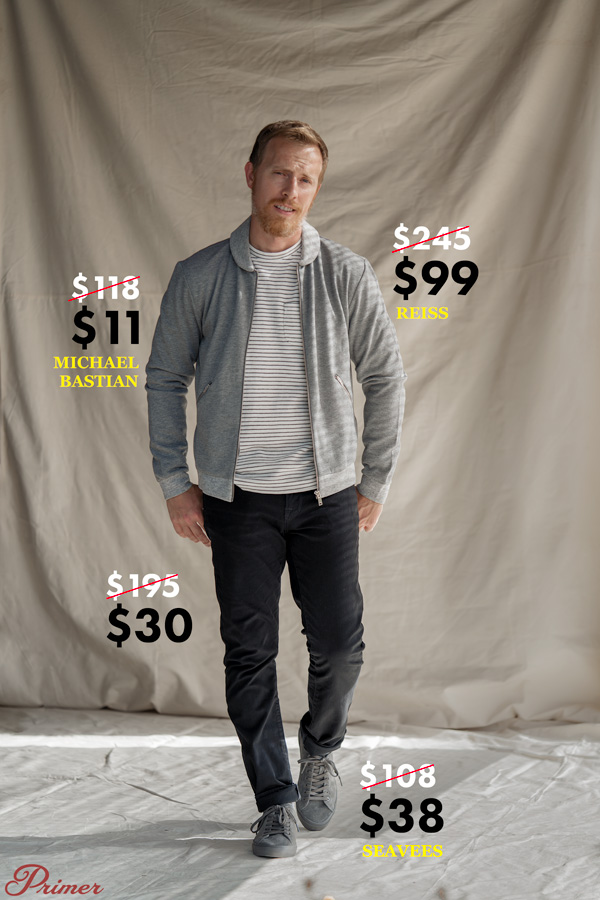 1. Do This First: Don't Browse…Filter
How many times have you landed on a retailers homepage to see them advertising a crazy clearance sale, you click through, start clicking on items and opening them in new tabs, only to discover that all of those items are only available in one size…and it isn't yours?
That's annoying and frustrating and contributes to the "I HATE SHOPPING BLARGHHHH" mentality. 
But wouldn't it be nice if there was some service where the only items you see are items in your size?
Well there is, and it isn't a service, and it's free.
Nordstrom Rack provides some pretty extensive filtering tools, unlike a lot of other brands, and the biggest one that I always start with, before I even start looking at what's available, is dialing in all my sizes:
Click here to filter your sizes to see what's available currently
I do that with my waist, suit jacket size, shirt size, and dress shirt neck size. That produces a ton of results that allow me to quickly scroll and click on things that I know are available in my size. This makes shopping infinitely faster, more efficient, and painless. 
I do that with both the regular section and the clearance section
, as well as footwear
.
2. Find High Quality USA Made Items on a Budget
Here's the unfortunate reality: Buying American-made items can be prohibitively expensive, particularly on discretionary spending like clothing. I think it's important to try to buy American-made when it meets my budget and needs. 
Just like anything, unsold inventory has to go somewhere, and that includes American-made stuff. Most clothing retailers just don't sell it to begin with, so there's no way to buy it on sale. 
But Nordstrom does, and some time ago, I stumbled across this link to a hidden American-made goods section
on Nordstrom Rack. Go there, filter your sizes, and bam: an American-made $1,700 Hickey Freeman wool flannel suit for under $600.
Pretty crazy!
American-made Allen Edmonds for the price of Cole Haan? American-made slim jeans for the price of Banana Republic? Uh, yes please!
Also great for American-made footwear, and copping American-made jeans that are sold full price at over $200 elsewhere for under $90 on sale.
I nabbed these American-made sneakers from Frye for only $56, originally selling for $348
3. Upgrade to Big Name Workout Gear at Old Navy Prices
Unless you either have a bunch of extra money, or your job somehow revolves around fitness, your gym clothing probably is not allocated a very large budget. For me, that means trying to find stuff that has good athletic properties that looks halfway decent and is reasonably priced.
That means the typical name brand athletic companies are out. But that's only if you're buying them at full price. 
Nordstrom Rack carries a bunch of name brand athletic apparel that will give you the quality and styling and features you're looking for that better fit the budget. 
Click here to check out available workout gear
4. If You Know What You Need, Start Here First
Sometimes life dictates a style need, like needing some new work pants
or some new shoes for a wedding
, but the specifics like style and color aren't as important.
In times like that, you can get yourself a higher quality, but better priced option by heading to that Nordstrom Rack section first and filtering by your size.  
So, let's say I needed some new dress pants for work, but I'm not hell-bent on anything specific other than they fit and they're good quality. 
Punching in my sizes gives me options from Bonobos AND Brooks Brothers for under $30. 
That's $150 pants at 80% off.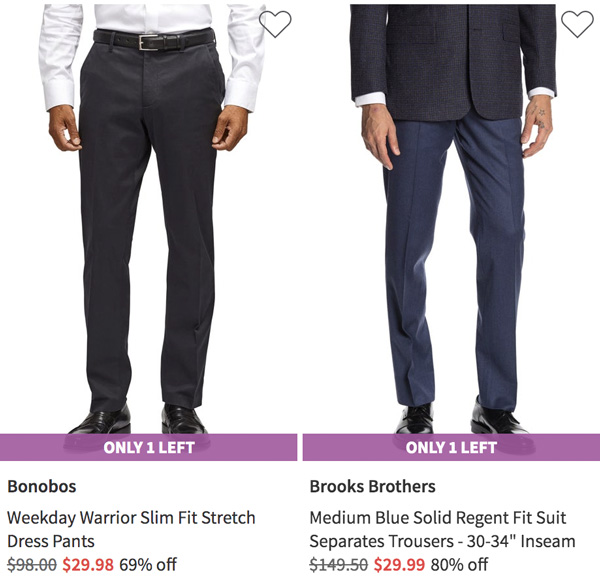 Shop dress pants now
Similarly, I wanted to get a lightweight leather jacket – a real leather jacket – that I could wear casually in that kind of way where you don't have to take it off when you're inside at a bar, but I didn't have a hard preference if it was a bomber or moto or some other style. 
See what leather jackets are in stock right now
Punching in my sizes, gave me this soft leather trucker
jacket from UK brand Reiss selling for only $40 more than Macy's is selling a faux leather trucker jacket!
I ordered these suede sneakers to replace the gray-on-gray fake leather ones we featured from Target awhile back: These are real, buttery-soft suede from SeaVees and they cost the same price!
5. Things Go Fast
Unfortunately, things sell out fast on Nordstrom Rack, as you might expect with a store that sells unused luxury brands on clearance. I ordered a bunch of items before starting this article and they were sold out in most sizes by the time I'm writing it. (Bummer.)
The balance of quality, brands, and pricing is a big reason you're no stranger to Nordstrom Rack if you follow our Deal Picks or 5 Under $50 posts. So be sure to subscribe to the Primer email, where our community gets first dibs on great deal finds. If you've ever stumbled onto a Primer deals post and found something out of stock, it's probably because Primer's email subscribers scooped 'em all. 
Click here to subscribe to the Primer email!
We're regularly sorting through Nordstrom Rack looking for surprising finds and good deals, so don't miss the next one!
Total Page Visits: 17 - Today Page Visits: 1