When your kid has a blowout, you'll be prepared.
Last weekend, while our big girls were with the grandparents, my wife and I had some alone time…with our two-year-old. We threw on her water shoes and headed to the creek to let her splash around, find snails, and chase crayfish. Thinking she'd only go in ankle-deep, we put her in shorts and a t-shirt, no bathing suit required. About ten minutes in, I looked back to see my baby girl sitting on the creek bed, water up to her chest, laughing ribbons and holding a rock she was sure had been a buried treasure. I laughed with her, took a few pictures, and didn't give a second thought to the wet clothes. No big deal. I had my dad bag. 
The dad bag isn't a new-age, hipster thing, and it's way more than a man's diaper bag. It's a pragmatic way of keeping all of your dad essentials in one spot. The backseat of my SUV has three car seats, sundry stuffed animals, at least two bowls worth of loose cheerios. And on the floor, behind the passenger's seat, my seven-year-old Cole Haan leather bag sits ready to assist in whatever curveball my kids may throw at me, whether it be chapped lips, dirty hands, or crayfish-catching clothes. 
If you're about to become a dad, or you're already a dad but realize you need to up your preparedness, then here are the dad bag basics: 
The Dad Bag Essential Contents
Depending on the age of your kid(s), your essentials may vary. Here are a few safe bets: 
Two diapers or pull ups (because one isn't enough, and three is too bulky)Baby-wipes – get a refillable pack, and remember they're not just for bums. Baby wipes are often your only defense against sticky hands. And kids' hands are ALWAYS sticky. A burp cloth (or even a small tea towel)One serving of whatever your kid is currently eating (dry formula, baby food, a pouch)Plastic bags for soiled diapers. You'll be amazed at how quickly you use up these bags. Poop diapers, puke burp cloths, creek water clothing, it all goes in the bag until we can get home.A change of clothes (for the kid, not you) Aquaphor. Get the brand name. It's worth it. A toy or board book your kid will play with while they're sitting in a shopping cart (if it's a toy that makes noise, make sure it has a volume-off button)Summer time? Sunscreen and bug spray (kid friendly)Camera. I'm sure I'll get some backlash on this one. I know cell phones take great pictures, but how many of those pictures are hanging on your walls right now? Get a pocketable camera, and take real, intentional pictures of your kid. Then hang them on your walls. If you're feeling extra fancy, read my guide about getting into 35 mm film cameras.Granola bar. This is for you, especially if you have a newborn. You're already sleep deprived, and you still have to eat too, dad. 
Dad Bag Profiles
There are three materials you should consider for your dad bag: leather, canvas, and nylon. Also consider the style of the bag – do you want a messenger bag with a crossbody strap or a traditional backpack? Ultimately, this all comes down to personal preference, so try on a few and decide which you like best.
Leather
I've carried a leather bag since college. I love the way leather ages; the scratches, the patina, to me, it all tells a story. So when it came time for me to get a dad bag, there was only one choice. My Cole Haan messenger has taken a beating over the years, and it's held up swimmingly. My one lament is that it's not as capacious as a traditional backpack; however, this has forced intentionality on my part as to what needs to be in the bag.
Kenneth Cole Columbian Leather Messenger $80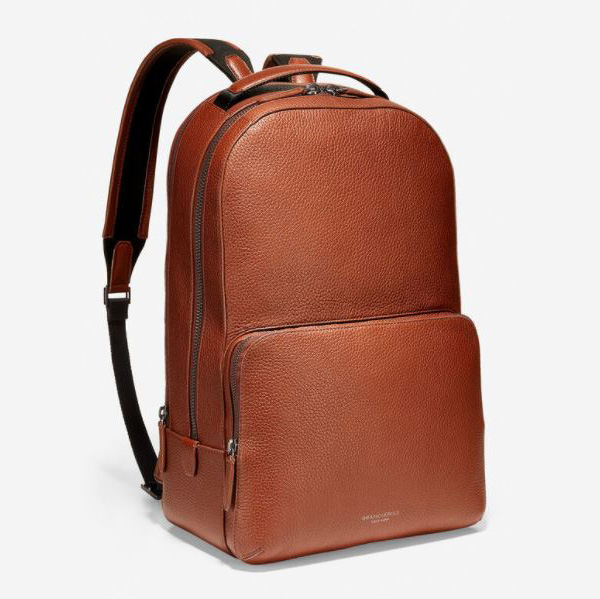 Cole Haan GRANDSERIES Leather Backpack $298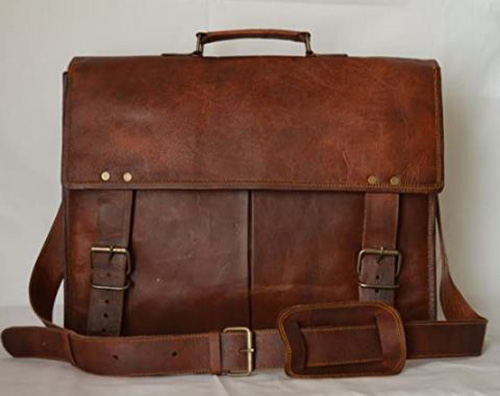 Komal Leather Messenger, $51
WP Standard Leather Messenger, $339
Canvas
There's a refined ruggedness to canvas: it's strong, yet soft, handsome, yet unintimidated by the elements. The canvas dad bag is an outstanding choice for the dad who wants something lighter weight than leather and that won't get easily ruined by a downpour. Canvas won't hold it's form as well as leather, but this can be an advantage (especially if you have a small car).
Ruvalino Diaper Backpack, $33
Egoelife Canvas Satchel, $22
High Speed Daddy Diaper Bag for Men, $99
Sweetbriar Classic Messenger Bag $22.95
Nylon
If you're the outdoors dad, you need a nylon or polyester bag. Nylon and polyester are waterproof, vegan, and their nonpareil durability makes them an economical choice as well. 
Davidnile Nylon Crossbody Daypack $32.99
Columbia Summit Rush Diaper Bag $44.52
Timbuk2 Classic Messenger Bag $77
Tactical Baby Gear Messenger Bag with Drop Zone Changing Mat, $99
Dive Deeper:
Total Page Visits: 53 - Today Page Visits: 1